Many people think they only need to keep the surface of kitchen faucet clean, but they neglect a factor that the inside part of kitchen faucet is more important. If the kitchen faucet has less outlet or bifurcation outlet, it may caused by the blocking bubbler. Then you need to remove the bubbler and soaked the bubbler with vinegar, then clean it with little brush or other tools.
To clean the plated finish of brass faucet, you can use hot water with some detergent and also can use some powerful oil decontamination detergent.
If the kitchen faucet surface has dirt or water rust you can use wet cloth or sponge to clean the surface with a little detergent then use dry cloth or water to clean again.
Although the chrome finish announced that it is antioxidant and anti-corrosion, wrong cleaning methods still can be damage the kitchen faucet. Do not use the scourer to brush the kitchen faucet surface because it is very hard and can scratched the kitchen faucet surface.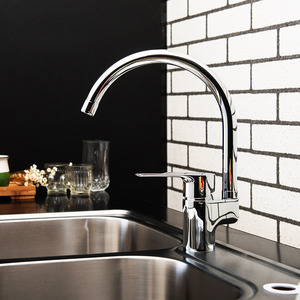 The maintenance of kitchen faucet is very important, you should know the following four steps.
1.Do not open and close the kitchen faucet overexert, just rotate it gently.
2.The metal shower chain should lay natural, do not coil it to the kitchen faucet.
3.After using a period of time, if you find it has less outlet you can screw the opening off and clean the filter then it will be good again.
4.Find professional workers to install the kitchen faucet.
Attention tips:
Use neutral detergent instead of strong acid detergent. Wipe the kitchen faucet with soft brush or cotton cloth dipping toothpaste to remove the dirt and water rust.